Groveport Large Format Printing
Large format signs are one of the best tools that a business can use to expand visibility and establish its brand. Get industry-level Groveport large-format printing services that will match your brand and your budget right at Columbus Printing Services.
Many businesses look for banners or signs with above-average sizes so they can stand out and attract people to their establishment. With state-of-the-art printers that can produce hundred-inch posters (or larger), any wide-format/grand-format printed product that you want for your business can be produced with perfect resolution and quality.
Large-format prints have many uses. But we can produce any product you need for you. Whether the main material of your sign or banner is made of canvas, paper, cloth, foam boards, metal, wood, glass, or corrugated plastic, you can expect that their durability will be enough for either indoor or outdoor use. Any material, size, dimensions, color scheme, or design that you want your prints to have, we can easily make them for you with professional quality.
With Columbus Printing Services, you can get impressive Groveport large-format printing services without having to spend too much!
Call Columbus Printing Services today at (614) 968-7041 for your Free Consultation with a Groveport Large Format Printing expert!
Wide Format Banner
Visibility is the main purpose of wide-format banners. Being durable and affordable, banners are one of the most in-demand products when it comes to large-size prints.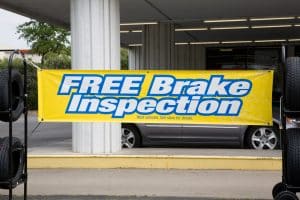 We aim to provide the best of what these products can offer to our clients. So as long as we can boost the resolution quality, product dimensions, image sizes, and other features, we can do it to maximize the effectiveness of the banners.
We also offer our clients a very flexible design process, allowing them to have much freedom in customizing their products according to their business goals.
We typically recommend canvas, polyester fabric, or vinyl as the material for our wide-format banners, with an emphasis on vinyl. It is a client-favorite option because they are notably durable even in outdoor environments. We also make use of UV-cured ink to ensure that the prints are as long-lasting as the main material.
Here are the different types of wide-format banners available:
Pull-up banners

Retractable banners

Backwall displays

Point-of-purchase displays

Step and repeat banners

Pole banners

Framed banners

Feather banners or feather flags

Suspended or hanging banners
Large Format Graphics
Large-format graphics printing can be used for more than just producing promotional banners. Other important functions of this service include interior designing, informing your clients about special business details, and reinforcing marketing campaigns.
Our printing company has a highly trained and seasoned team of graphic designers and printing experts that can help optimize your large-format graphics. We know how to make messages, texts, and images much more effective in attracting the attention of your target marketing and in communicating the information that you want to relay to them. All the vital aspects of visual design will be expertly used to express your brand.
Our Groveport large format printing services have been beneficial to many businesses who aim to improve the Interior design of their business areas for various reasons, such as boosting employee morale, establishing internal branding, and communicating important company announcements. If you want to kick things up a notch, we can also install foot traffic-resistant graphics on your floors!
Full-Service Sign Company
Columbus Printing Services offers not just high-quality printed products and printing services but also a partner in all your graphics, marketing, and designing endeavors as a business or as a personal client. From graphic design to signage installation, we are ready to provide everything you need from the printing and graphics industry, assuring that you have the most convenient experience possible with all the projects that we work on together.
No matter how small or large your desired product is, we are knowledgeable in printing out high-resolution graphics carefully rendered on our computers. We use industry-grade printers to make sure that the final output is as clear and high-quality as the designs that you see on our screens.
Various substrates and accessories are also available in our company, so you can have a lot of freedom in designing your banners and signs. Just tell us your budgetary needs and timetables, and we guarantee that we will follow through with our initial agreements.
On top of our Groveport large format printing services, we are also fully capable of providing these products to you!
Digital printing

Screen printing

Variable data printing

Graphic design

Copying

Binding

Direct mailing services
Feel free to contact us to know the wider range of products and services that we can offer!
Free Large Format Sign Consultation
Depending on the context, most large-scale graphics are much more effective in sending out important branding and promotional messages to a business's target market.
Let us meet at your earliest convenience so we can show you how our Groveport, OH print shop can definitely help your business in more ways than one!
Call Columbus Printing Services today at (614) 968-7041 for your Free Consultation with a Groveport Large Format Printing expert!