Brice Banner Printing
When posting signage for the public to see, it's easy to get your message overshadowed by surrounding business signs and other distractions. That's why at Columbus Printing Services, we offer our Brice banner printing service to provide you with dynamic business signs that will effectively capture people's attention.
The banners that we print are complete with attractive graphics, high-quality ink, and durable materials—everything that you need for a compelling advertising tool that will help increase your customer traffic for a long time. We even have professional graphic designers who will ensure that your banners are eye-catching, comprehensible, and a perfect match to your brand image.
Additionally, there are different substrates that we use for our banners. Whether you need one for indoor or outdoor use, we can print your banner in the most appropriate material that can last for a long time. If you're not familiar with the different materials, we can help you pick which one is best for your intended purpose and established budget.
From grand openings and product launches to simple event promotions, we are ready to provide you with the best custom banners for your marketing goals!
Call Columbus Printing Services at (614) 968-7041 for your Free Consultation with a Brice Banner Printing expert!
Wide Format Banners
If your purpose is to catch the attention of as many people as possible, making your banner as big as you can afford is essential. This will make it easier for people to recognize your business even from afar and take an interest in your promotions, contributing to the overall growth of your customer traffic and sales.
And if you work with us at Columbus Printing Services, you can expect high-quality customized wide-format banners that will help increase your visibility and brand awareness in a budget-friendly way. We will ensure that your graphics will be printed in high resolution regardless of how big your banner will be, making it as attractive and compelling as possible.
Aside from an eye-catching design, we also use durable materials for our wide-format banners to make them ideal for long-term outdoor use. A lot of materials are available, but vinyl is more popular and durable, especially if UV-cured ink is used for printing the graphics. This way, not only will your banner hold up for a long time, but your design will also last long without fading or being easily damaged.
Large Format Graphics
If you need more than just banners, we can also complete your marketing campaign with some premium-quality large-format graphics. We can customize them in the most brand-appropriate way possible and make them suitable for either outdoor or indoor advertising tools.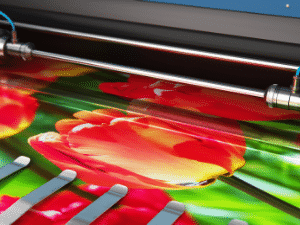 Large-format graphics come in different forms, including large posters, window displays, wall murals, floor graphics, and other kinds of vinyl decals. They are a good tool that allows you to utilize bare surfaces in your building for maximum branding and promotional results.
No matter what type of large-format graphics you want, however, we will always guarantee a high-resolution, appealing design that will leave a long-lasting good impression on your target market. We'll also install these graphics for you to make sure that they will be applied with no bubbles, warping, misalignment, or any novice installation error.
Flexible Banner Customization Options
Businesses need unique and attention-grabbing signs in order to outshine their competitors and attract more customers. So at Columbus Printing Services, we offer our Brice banner printing service with the guarantee of thorough customization to improve the overall impact of your banners while still staying within your budget.
As much as possible, we won't utilize a previously used layout or some generic structure that's only filled with your marketing message, logo, and other details. We will instead give your banner a design that is unique to your business and can be easily distinguished by your target market, all while highlighting your key branding elements.
There are also different types of banners that you can choose based on your signage purpose, budget, and personal preferences. These include:
Pull-up banners

Retractable banners

Backwall displays

Point-of-purchase displays

Step and repeat banners

Pole banners

Framed banners

Feather banners or feather flags

Suspended or hanging banners
If you're not sure about you want your banners to look, we can help you choose what material and size are best for your sign's purpose. For outdoor banners, we mostly recommended printing on vinyl using UV-cured ink, as this will yield longer-lasting banners that stay attractive for an extended period.
Full-Service Printing Company
Apart from our in-demand Brice banner printing service, Columbus Printing Services also offers other highly recommended services using our industrial-grade printing machines and high-quality substrates. We can design, print, copy, and even direct mail your chosen marketing materials for both personal and commercial purposes.
Here are some of the printables that we can give you aside from banners:
Business cards

Brochures

Postcards

Flyers

Newsletters

Posters

Promotional Items

Envelopes and letterheads

Manuals

Contracts and all other business forms
Our team can use either screen print or digitally print your marketing materials, depending on your budget and style preference. We have mastered both processes and can guarantee durable and attractive graphics regardless of which one you go for. And if you want to go beyond printing for your customized marketing apparel, our Brice, OH print company is well-versed and fully equipped to provide high-quality embroidery services as well!
Let's Talk – Get Your Free Banner Consultation Today
The importance of eye-catching, long-lasting, and cost-effective outdoor signs is even more pronounced when it comes to increasing your business's traffic and overall customer engagement.
That's why to help you reach a wider audience and compel more people to patronize your business, we offer a full-service Brice banner printing service at a reasonable rate!
Call Columbus Printing Services at (614) 968-7041 for your Free Consultation with a Brice Banner Printing expert!